written by: Baxter Garringer, Ball State Student
The 21st Century Scholarship changed my life. I grew up in a household of five and was the oldest of my brother and sister. We never grew up with a lot of wealth in my household. I qualified for reduced-price lunches and didn't always have the same opportunities many around me did. That was until my middle school guidance counselor informed me and my family of the 21st Century Scholars program. At the time I was in 8th grade, and honestly, I didn't really think much about it. I was too young even to imagine going to college and had no idea how important scholarships would prove to be for my college career.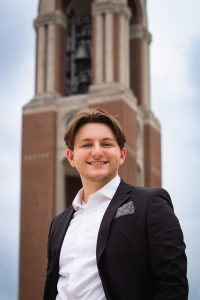 I took home a paper about eligibility and gave it to my parents. Based on how many members were in my household and my family's income we discovered that I was eligible for the program. After this, I applied and there weren't too many hard steps to follow. All I had to worry about was keeping on top of my grades and not getting into any trouble. Other than that there were a few small requirements that I had to do each year and then my senior year file my FAFSA.
As I grew older I realized I could not have gone to school without incurring debt. Because of the help of the 21st Century Scholar's program, I have every dollar of my tuition paid for. This program has impacted my education in the following ways: I am able to focus on my education and not worry about the financial side of things, I can start my career after college in a better financial position, and I am held accountable to work hard to maintain the scholarships I've earned.
With the help of the presidential scholarship and Pell grants, I went from affordable college being one of my major concerns to having no worries about my affordability. This impacted my college experience highly. I don't have to worry about my financial status and I can truly focus on my education and myself.
Without this program, I would not be able to attend college without accumulating a pile of debt. I am now going into my second year as a student at Ball State University and feel amazing about my status. 21st Century Scholars changed my life for the better, and it can to many people. I have many friends who could've joined the program but didn't know what it was or didn't apply for it and have lost out on so many good opportunities. For what you get out of this program, the 21st Century Scholars program is very easy to apply. The steps taken to be a part of this program are very minuscule compared to what you get in return. If you are a student or a parent of a student in 7th or 8th grade visit this website https://learnmoreindiana.org/scholars/ or call your guidance counselor today!
---
About 21st Century Scholar Program: 
Eighth-grade students must enroll by June 30th, to qualify for the 21st Century tuition scholarship. You will no longer be eligible to enroll after that date. Parents have two options to enroll their student(s):
Contact Project Leadership by June 24th to enroll over the phone at 765-651-0650.
Enroll online at scholars.in.gov/enroll. Parents must first register an account with ScholarTrack, then complete the online application.
About Project Leadership:
Project Leadership's vision is communities without poverty. Its mission is to provide equitable access to education and career beyond high school. Project Leadership assists and inspires students and families by growing their knowledge, increasing access to opportunities and boosting readiness for success in college and careers. 
About Education Support Hub:
The Education Support Hub is a timely, in-depth, supplementary resource for the professionals, parents, students, and members of the Muncie community. Our goal is to provide essential information about physical and mental health, nutrition, online learning, and technology support related to each school.