By: Mitch Isaacs, Shafer Leadership Academy
I am a planner.
I have carried a planner of some sort since college, where I learned to plan weeks in advance to balance my academics, extracurriculars, and work.
It is a practice that I have carried with me in the 20 years since, now replacing the old paper planner with my phone and all the common digital tools. Planning, for the better part of two decades, has a played a crucial role in my life. 
Then the pandemic happened.
Suddenly in March of 2020 I found myself a bit unmoored. I had less to plan and far fewer places to be. At first it was deeply liberating. As the pandemic drug on, however, I noticed a developing trend, I could no longer plan too far in advance.
Events and activities that once required a lead time of weeks were reduced to days, if at all. Moreover, as I began looking to my move organization forward, I was forced to begin planning in a very uncertain future.
I work as the executive director for a small nonprofit – a role that requires me to balance competing priorities while wearing multiple hats. Planning has always served as a key tool in my ongoing struggle to handle the demands of today, while keeping an eye out for the problems of tomorrow.
The new normal has required me to change how I plan – how often, how far in advance, and how specifically. I have had to embrace new levels of flexibility and uncertainty. It has required a patience that does not come easily.
Yet – if the pandemic has taught us anything it has taught us to change. Humans are amazingly adaptable. I have also noticed that we are giving each other more grace. We have lowered our expectations a bit for planning and execution, in a way that I have found refreshing and a bit liberating.
So planners of the world, I encourage you to take in what is left of this time and provide yourself grace. Enjoy a world that does not require us to plan too far in advance. Try to appreciate that expectations are a bit different right now.
Try to pause and give yourself some grace.
---
About the author: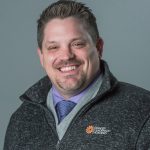 Mitch Isaacs is the executive director at Shafer Leadership Academy