written by: Kate Elliott
On nights when her home was without heat, Emma-Mae Newman fell asleep under a pile of blankets, dreaming of becoming a 21st Century Scholar like her older siblings. She saw them and other income-eligible Hoosiers navigate four years of college without debt. 
"The program changed my life," said Newman, a Muncie native. "It helped me move several steps closer to escaping the cycle of poverty my family has been in for so long."
Newman enrolled in the program when she entered seventh grade, and when she heard that she received the scholarship — four years of paid tuition at a participating Indiana college or university — she became "laser-focused" on getting into Indiana University, which provides 21st Century Scholars additional scholarship assistance for room and board. 
"I aspire to be an attorney," said Newman, who graduated from IU in 2021 with a bachelor's degree in law and public policy. "When I was young, my mother had to battle for custody of my siblings and me. That legal and emotional battle was costly and painful."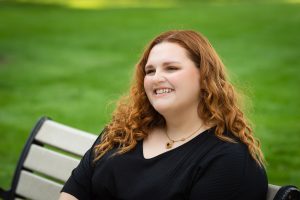 At the time, Newman said the experience left her distrustful of the legal system. But over time, she turned that pessimism into inspiration to create change. She will begin classes in 2023 at IU's Robert H. McKinney School of Law in Indianapolis. Until then, she will continue to serve as a legal assistant for McAnlis Law Group in Indianapolis and serve as a volunteer at the East Central Indiana CASA (Court Appointed Special Advocates for Children) office in Anderson, Indiana.
Newman maintains ties with the people who have guided her along the way. When she enrolled in the 21st Century Scholars program, she also became a mentee with Project Leadership, a Muncie-based nonprofit that supports students throughout East Central Indiana. Her mentor, Sue Godfrey, introduced Newman to people and experiences. As a high school graduation gift, Godfrey took Newman on a trip to Washington, D.C.
"I had never traveled before, and I had always dreamed of seeing our nation's capital," said Newman, who graduated in 2018 from Burris Laboratory School in Muncie. "The program connected me to resources and gave me confidence. The support I felt from this community changed my life."
These experiences and resources, Newman said, have allowed her to achieve academic success and advance her career while living close to family and friends. With her grit and determination, Newman may have ended up where she is today, but the path, Newman said, would have been lonelier and stressful. She would not be involved in the clubs and volunteer experiences that enrich her — personally and professionally. 
"As a child, it is painfully stressful to think about the cost of a college degree when your family sometimes goes without food or electricity. You do not want to impose on your parents or add to their burden by talking about college costs, but as a person, you know college is the way towards a better future and following your dreams," she said. "The 21st Century scholarship and being involved in Project Leadership completely changed my life. It motivated me to do well in school and contribute to my community. I don't know where I would be without these programs."
---
About 21st Century Scholar Program: 
Eighth-grade students must enroll by June 30th, to qualify for the 21st Century tuition scholarship. You will no longer be eligible to enroll after that date. Parents have two options to enroll their student(s):
Contact Project Leadership by June 24th to enroll over the phone at 765-651-0650.
Enroll online at scholars.in.gov/enroll. Parents must first register an account with ScholarTrack, then complete the online application.
About Project Leadership:
Project Leadership's vision is communities without poverty. Its mission is to provide equitable access to education and career beyond high school. Project Leadership assists and inspires students and families by growing their knowledge, increasing access to opportunities and boosting readiness for success in college and careers. 
About Education Support Hub:
The Education Support Hub is a timely, in-depth, supplementary resource for the professionals, parents, students, and members of the Muncie community. Our goal is to provide essential information about physical and mental health, nutrition, online learning, and technology support related to each school.